I forbindelse med vores kundeprojekter har vi oplevet efterspørgsel på en feature i Jira Service Desk. Helt konkret lyder efterspørgslen at gøre det muligt for service desk agenter at sende en SMS.
Vi har naturligvis taget efterspørgslen til os, og har i forlængelse heraf udviklet en helt ny funktionalitet, der gør det muligt for JIRA Service Desk-agenter at sende SMS-beskeder gennem en dialog direkte i Jira. Efter at have indtastet landekode, telefonnummer og meddelelse afsendes der en SMS direkte til det pågældende telefonnummer uanset hvor i verden, personen er bosat. Er meddelelsen afsendt korrekt, tilføjes der automatisk en kommentar på issuet, at der er afsendt en SMS til det pågældende telefonnummer. Når der bliver sendt en SMS, vil SMS-leverandøren modtage information om, hvilken Jira Service Desk den er afsendt fra, så der nemt kan dannes et overblik over omkostninger til SMS per Service Desk.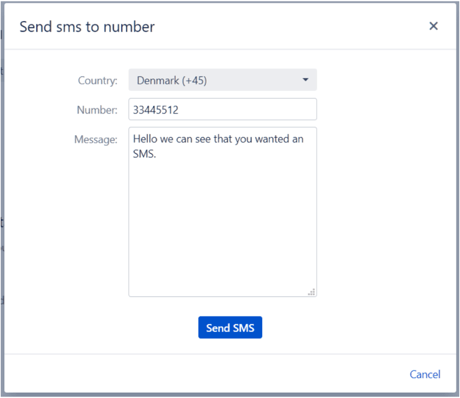 Denne feature er et eksempel på, hvordan der hurtigt kan leveres forretningsværdi. Næste skridt bliver at udvide med en række yderligere funktionaliteter.
Funktionaliteten er udviklet i @scriptrunner, og er et godt eksempel på, at dette add-on kan bruges til at løse en lang række udfordringer. Deres in-line editor tillader os at skrive scripts, som udvider funktionaliteten af JIRA, således at platformen tilpasses den enkelte virksomhed og dennes specifikke behov. https://gatewayapi.com bruges som leverandør til afsendelse af SMS'er
Kunne du tænke dig at få denne funktionsknap inkluderet i din service desk, eller ønsker du dette som et add-on til markedspladsen, så kontakt os endelig for en demo eller mere information.
---
Through our customer projects, we became aware of a demand regarding a feature in Jira Service Desk, which was not yet developed. Specifically, the demand concerned an SMS-feature in which it would be possible for the Jira Service Desk agents to respond to service requests in the format of an SMS.
We, of course, listened to this demand, and have from this idea developed a new function button. This enables Jira service desk agents to send SMS messages through a dialog box directly in Jira. Upon inserting your country code, phone number, and message, the SMS will dispatch directly to the concerned phone number. At dispatchment of the SMS, the message will contain information regarding which Jira service desk it was sent from. This way it is easy to gain an overview of the cost surrounding the SMS per service desk.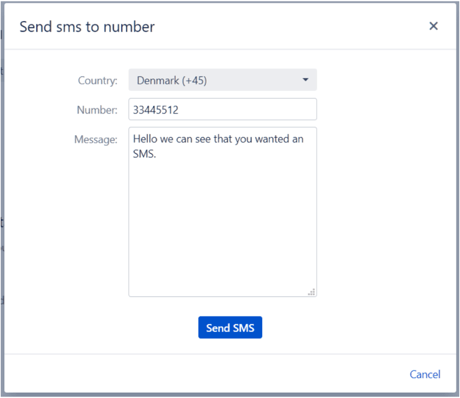 This feature is a great example of how our developers are able to generate value for our customers' businesses. The next step will be to expand the feature even further, with a number of additional functionalities.
The current overall functionality is developed in @scriptrunner, and nicely illustrates how many challenges can be solved therein. Scriptrunner's in-line editor allows us to write scripts that expand the functionalities of Jira so that the platform adapts to each business and its specific needs. https://gatewayapi.com is used as the supplier for the dispatchment of SMS messages.
Are you interested in integrating this SMS feature button in your service desk? Or do you want it as an add-on for the marketplace? Then do not hesitate to contact us, for a demo or more information.
KONTAKT OS NU PÅ
70 70 72 71