There are several reasons why it is smart to allocate resources. By allocating resources, you get a better overview of which of your employees are on projects. In this way, you can ensure that work tasks are evenly distributed in the team, so there are no billable employees without customer projects while others are overloaded. In this case, monday.com will be the ideal project management tool, as with the platform, you can get better control of your cases, tasks, employees, and planning. With monday.com, you get a better overview of the day-to-day operations in the company, so you save time on administrative tasks. At the same time, with the platform's Workload Dashboard, you can easily create an overview of which employees are free so that tasks can be quickly delegated to the less stressed employees.
Who can work with resource allocation in monday.com?
All types of companies can work with resource allocation. Especially those who work project-based will benefit from monday.com. This is because the platform can meet the challenges below, which can often occur when your team has to try to deliver a time-based project:
Resource availability
Changes in project scope
Differences in location and time zones
Process and task delays
How to work with resource allocation in monday.com
On monday.com, you can work with our resource allocation function called "Workload. In the following, we will explain how monday.com's Workload can help you plan and allocate your resources.
In the example below, we have designed a monday.com board with various consulting projects and internal tasks to which employees of a consulting company are assigned. Here you should ensure that you have 1) a person column, 2) a timeline or date column, and 3) an estimated hours column.
On the platform's board with project data, you see an overview of Team A's projects and internal tasks within a given period. In addition, the estimated hours that are expected to be spent on the respective tasks are indicated, as well as the task's status.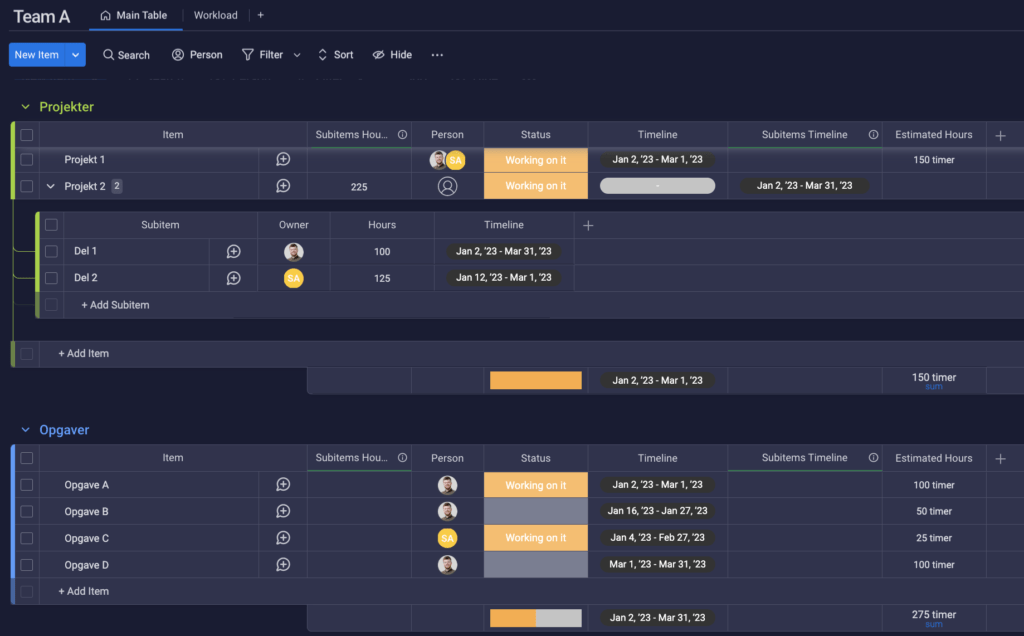 In the following picture, you can see the platform's Workload Dashboard and an overview of the workload of the two employees. The employees are estimated to work 37 hours a week. Here you can see that one employee, Jeppe, has been overbooked from mid-late January when he has to work 53 hours a week. During the same period, Sarah has extra capacity in the calendar, as her two projects and Assignment C count around 30 hours a week.
The great thing about the overview is that it gives the project manager a clear overview of the employees' capacity. Thereby, in a case like this, the project manager can change the period of Task A or Project 1 or divide one of the tasks into part 1 and part 2, as with Project 2, to ease the workload of Jeppe.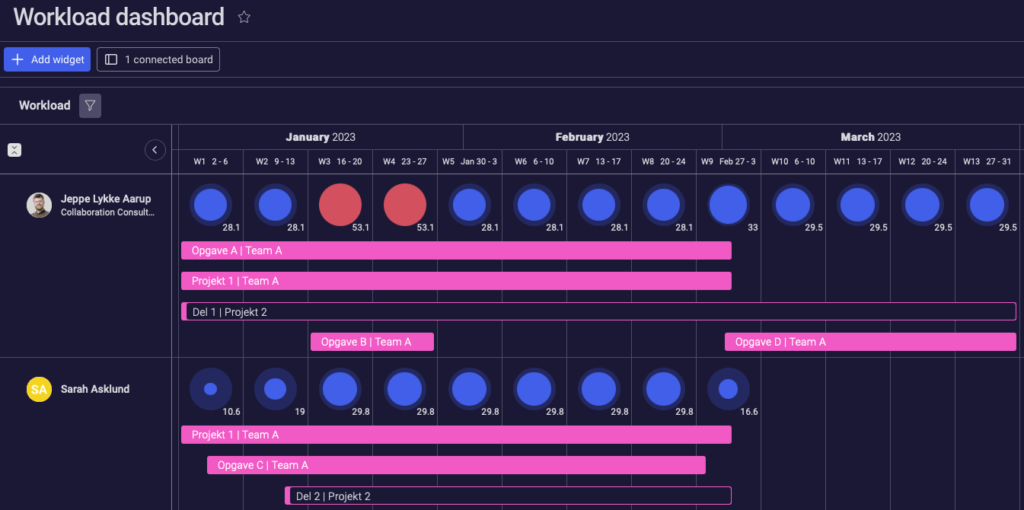 We hope this post has given you a better insight into how to allocate resources in monday.com. In the video below, we also illustrate in a step-by-step guide how to create a Workload Dashboard yourself in monday.com.
Step-by-step guide to Workload Dashboard
If you want to know more about how you or your team can use monday.com for resource allocation, you can contact our monday.com Account Executive, Kirstine Danielsen, by phone: at +45 24 82 71 15 or email: khd@aety.io