Not more than three years ago, Atlassian doubled its efforts in the ITSM market, introducing its first service management solution, Jira Service Management. Today, over 45,000 customers trust Atlassian as a modern ITSM platform. Atlassian continues to focus on developing digital experiences for development, IT operations, and business teams. Today, Atlassian is pleased to share that they have now been placed in the Leaders category in the 2022 Gartner® Magic Quadrant™ for IT Service Management Platforms!
This characterizes a Leader in Gartner's Magic Quadrant
Leaders have executed well with a broad market reach, strong customer awareness, and adoption. These suppliers have a clear vision that addresses relevant challenges facing operations and development teams.
These include:
The Impact of Product Teams.
Need to support agile and DevOps environments.
Delivering employee experiences with impact.
The use of AI and machine learning to better use data and collaborate in an external or hybrid workplace.
These suppliers demonstrate the levels of product, marketing and sales capabilities required for market acceptance.
Atlassian's strategy
Atlassian's strategy is aimed at providing a single platform that connects development and business teams, as well as operations and development teams. Atlassian addresses organizations of all sizes for ITSM solutions. Three core beliefs continue to drive Atlassian's vision and investments in ITSM:
A desire to connect development and IT operations to speed up work: As digital businesses transform, they recognize the importance of unifying their teams. Hence, work flows seamlessly from concept to design and onto the building, launching, operating, and supporting great product and service experiences.
Autonomi er altafgørende:
Atlassian giver teams den fleksibilitet og enkelhed, der kræves for at arbejde hurtigt og operere med autonomi. Imidlertid, giver det stadig mulighed for en fælles terminologi, erfaringer og administrative kontroller, som er nødvendige for koordineret arbejde.


Desire to strengthen all service teams Teams outside of IT must work with the same efficiency. Atlassian enables teams to adopt a service-oriented mindset and reduces reliance on central IT to provide rich service experiences to internal customers.
Below you see Atlassian's placement in the Leaders category in the 2022 Gartner® Magic Quadrant™ for IT Service Management Platforms: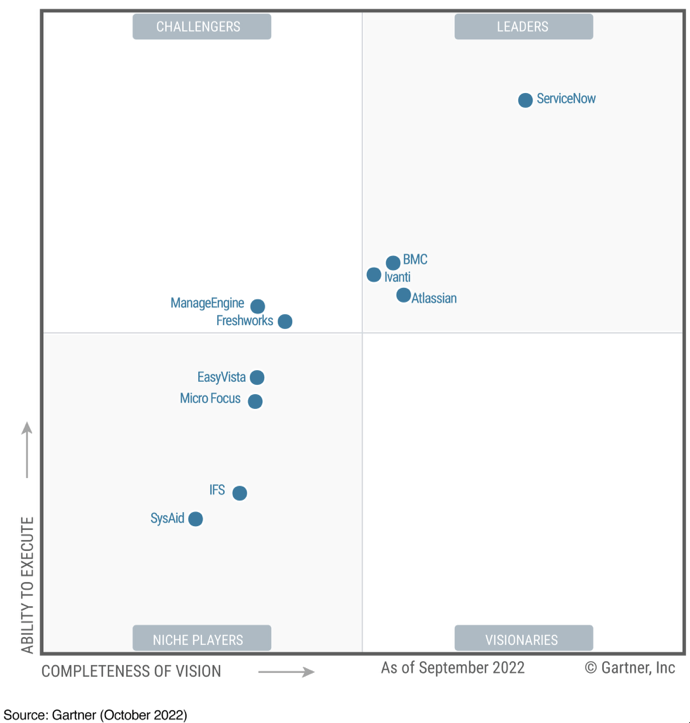 Gartner highlights the following strengths of Jira Service Management:
Product Innovation: Atlassian has a differentiated vision for the ITSM platform market, driven by its development experience focused on product-centric thinking, federated ITSM models, and collaboration. Atlassian invests a large percentage of its revenue in research and development. Compared to competitors of the same size, Atlassian has a relatively large number of patents related to ITSM to protect its intellectual property.
Targeted acquisitions: Through a series of targeted acquisitions, Atlassian has rapidly improved its ITSM platform capabilities in areas such as form design and configuration management. In particular, its acquisition of Percept.AI has enabled the platform to have built-in virtual agent technology on its short-term roadmap.
New customer growth: In 2021, Jira Service Management was the fastest-growing product regarding the number of new customers. This is based on the offers from suppliers that were evaluated in Gartner's report for ITSM platforms 2022. Atlassian's new customers range from small businesses to those with more than 5,000 users with licenses. Source: Gartner
What does this mean in the future?
At aety, we hope that Atlassian's ranking as a Leader in Gartner's Magic Quadrant 2022 for IT Service Management Platforms will prompt organizations to consider Atlassian's ITSM platform when faced with this type of procurement. The possibility of gathering support and managing projects on the same platform gives rise to many synergies without having to invest in expensive integrations.
Products such as Confluence and Jira Software/ Work management are already implemented in most larger organizations as a primary platform for managing IT and business projects. The customer can easily expand their existing platform to support ITSM. Aety continues to recognize the Atlassian ITSM platform as the best since Gartner has formally accredited it as an ITSM platform.
If you are interested in hearing more about the possibilities of an Atlassian ITSM solution, do not hesitate to contact us!